John Andrew Dixon
Designer | Illustrator | Artist

Visual problem solver and man of many styles
His lifelong fascination with the creative process has enabled John Andrew Dixon to become proficient just about anywhere along the fine and applied arts spectrum, including visual marketing, graphic design, editorial illustration, or mixed-media collage. As a behind-the-scenes professional for more than 35 years, serving a full range of business and institutional clients, he's continued to develop broad artistic capability. In addition to accepting commissions as a watercolorist, wood engraver, and digital artist, he regularly exhibits his work as a printmaker, layerist, and artisan.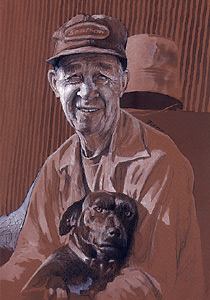 Although much of his energy and imagination is devoted to meeting the objectives of client organizations, Dixon turns to fine art for a more subjective experience—personal forms of expression that probe deeper toward the heart of creativity.
Eclectic influences and
multi-faceted preoccupations
With influences as wide-ranging as 19th-century lettering art, animated screen titles, contemporary Web comics, classic American book illustration, and the European Avant Garde, Dixon has refused to pigeon-hole his imagination or range of creative pursuits. Contact John to discuss the potential for creative collaboration or to initiate that special project you've been pondering. He welcomes all types of assignments.
Balancing art, family, and
an active community life
Dixon and his six siblings each migrated to Central Kentucky over a period of 12 years. "My brothers and sisters and I were inspired by our parents' values. We made a mutual pact to find a more desirable quality of life and pledged to reside in proximity, sharing our lives as an close-knit extended family," he explains. A farm retreat became the family project, with each household within an hour's drive. Dana and John are truly "partners in all things," and have chosen Danville, Kentucky as their adopted home, based on its widely recognized attributes as a community. "Everything about Danville supports our goals as both designers and artists. We enjoy taking an active part in the community, and our local clients become friends. It's hard to imagine a more pleasant place in which to live and be creative," Dixon says. As a graduate of Leadership Boyle County, he has served on the boards of the Danville/Boyle County Chamber of Commerce, the American Heart Association, and the Danville Rotary Club. He chaired the Advisory Board for a Salvation Army Corps that serves five counties and was presented the David Bell Birney Hope Award for outstanding service. An avid cyclist, he was appointed to the Kentucky Bicycle and Bikeway Commission and was also a founding organizer of B.I.K.E.—the Bicyclist Initiative for Kentucky Enhancements. The governor named him to the Honorable Order of Kentucky Colonels in 2007.



J A Dixon is an active blogger at The Collage Miniaturist








T O P