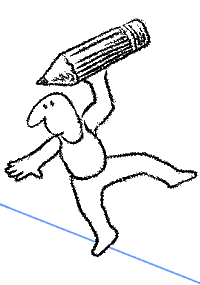 Establishing an Effective Image:
Visual Identity Management
by John A Dixon
Latest in a series, copyright Dixon Design
Wouldn't it be great if the business world was a totally rational place, where the superior attributes of your product or service were sufficient to convince your prospective customers to make that all-important purchase decision? In reality, the marketplace is made up of people whose attitudes are based primarily on feelings and perceptions. They choose to acquire a product or service after they "buy" an image.
What we are learning about human experience tells that there are as many realities of your business as there are individuals receiving information about it. Their perception of you is their reality. Therefore, it's no surprise that a strong corporate identity (or brand equity) has become a major commodity in today's evolving world economy. Behind every effective business image is a commitment to building long-term credibility and perceptions of value. Whether your organization is small, large, or temporarily in between, applying the basics of visual identity management can have a profound effect on influencing the markets vital to your success.
Traditionally, the subject of corporate identity triggers mental pictures of trademarks, symbols, and logotypes. We've reached a turning point, however, and the proliferation of logos has led to a business environment where the logo itself becomes the least critical aspect of a distinctive business image—an unusual perspective, coming from someone who has spent over 30 years creating logos. Don't get me wrong. Primary graphic identifiers will continue to be essential, but without a consistent, on-target presentation, it has become more difficult for a company to make a significant, lasting impression. To achieve image effectiveness, organizations will need a well-managed visual identity that goes beyond the appearance of the logo itself.
Identity management relies on developing a coordinated visual system and a commitment to preserving its integrity. The real work of identity management is not meant to stand out or draw too much attention to itself, but to communicate the core ideas of a business image strategy. When an identity manager is doing an effective job, the effort goes virtually unnoticed.
While a total identity system anticipates the myriad ways a logo will appear, an optimum level of simplicity is critical. It can be a tough balancing act.

Mindset A: Less is a chore
Avoid the temptation to do too little. Seeing any communication tool as "dispensable" can be a lost opportunity to build a comprehensive look. Economical never has to look unprofessional. Whether it's a perfunctory phone directory ad or a "throw-away" brochure, no one can predict whether it will be the item that makes a vital first impression.
Instead, oversee the consistent application of a simple, unified system of identity concepts, working with experienced in-house specialists or consulting designers. Without attention to consistency, you send subtle, incongruent messages, rather than project the desired image—to your internal stakeholders, and to the critical marketplace. The effort to cut costs by producing "quick and dirty" aberrations will undermine the effectiveness of high-profile communication tools designed to reinforce perceptions of credibility. This all-too-common practice is a false economy.
Consistency is the antidote to unfocused or off-target perceptions. If visual identity decisions are handed off either to someone who doesn't understand or appreciate overall marketing goals or to a supplier who has no vested interest in furthering your image strategy, you can't expect to achieve the benefits of a strong identity-building program. A haphazard, ineffective organizational image will emerge by default over time, unless you adopt and enforce implementation guidelines that designate the proper approval authority.

Mindset B: Less is a bore
The pitfall of doing too much can be equally disastrous. Excessively rigid constraints that limit design flexibility or impede efficient problem solving can defeat your purpose—effective communication. You want focus and consistency, not monotony. An identity program can disintegrate through loss of support if a regulatory gauntlet destroys employee enthusiasm for the effort. This can often lead to another kind of excess known as "creative subversion," a willful misinterpretation of design standards, just to break the monotony. This is counterproductive to the ongoing discipline required for a successful visual identity system and wastes limited resources.
The best visual identity standards are those that stop short of a "graphic straight-jacket." Rather, they achieve a "family resemblance" with rules of thumb concerning color, typography, spatial considerations, and logo usage. It's interesting to note that the image of IBM, one of most respected companies known for quality and reliability, was a product of corporate strategy that relied on a decades-long commitment to sound identity management instead of the typical hard-nosed manual of graphic standards.

Mindset C: Less is more
The challenge of effectively using "less" involves a coherent blend of visual consistency and structural flexibility. You want clearly defined guidelines that preserve continuity, while encouraging thoughtful, imaginative interpretation. A practical system guided by an identity manager who has authority to sign off in all contexts of visual communication is essential, and it always works best when mutual goals and a spirit of cooperation are fostered by top management. As part of a long-term strategy, identity management practices may need to evolve as the company grows or market conditions change. Implementing a focused plan that stresses effectiveness, while balancing enforcement of guidelines with appropriate creative freedom, is both challenging and rewarding.

Responsibility for addressing identity issues must be taken seriously by individuals at all levels of an organization, but most importantly by the owners or top administrators, the primary communications executive, and all participating graphic design professionals. Every organization is different, but all high-performance identity managers share three attributes:
They seek to reinforce the total image by appreciating each contact with the marketplace as an opportunity to communicate positive perceptions.
They look for ways to build internal respect for the identity program by acquiring upper management endorsement, preparing comprehensible guidelines and standards, encouraging teamwork among employees and suppliers, and developing a practical approval process that builds continuity of image by promoting consistency and overall effectiveness.
They exercise flexible restraint by maintaining comprehensive standards, while allowing for individualized creative solutions and the potential for identity evolution.
An effective identity manager does not approach the business image as static, or permanently defined, and knows that it cannot rely solely on replicating a trademark like a rubber stamp. As it becomes the objective of companies and institutions to serve the needs of individuals, it becomes the job of identity managers to create as much commonality of experience as possible for diverse audiences. This won't be accomplished with a "broad brush" approach, but by establishing coordinated, yet flexible visual systems that can be tailored for defined target groups. An effective program reaches beyond the logo to encompass the tone and context of how the logo, as well as a broader vocabulary of graphic elements and creative themes, will be presented.
When your image-building objectives are based on your unique organization's philosophy, capabilities, and products, and are presented thoughtfully and consistently, the investment in astute program implementation will contribute significantly to your competitiveness. It becomes a powerful force that builds "image equity" reinforcing name recognition and long-term positive perceptions.
A picture may be worth a thousand words, but an image can be worth millions.
A version of this article originally appeared in Business Bulletin,
a publication of the Kentucky Chamber of Commerce.




Criteria for managing your visual identity


T O P